#BookReview of A Silent Death by Peter May
10 Jul 2020
| 4 minutes | Paul Mitchell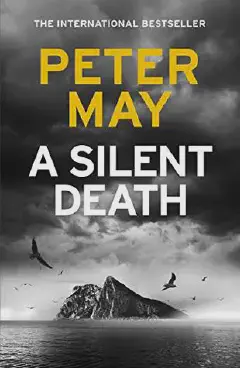 Title: A Silent Death
Author: Peter May
Date Published: 9 Jan, 2020
Genre: Thriller
Publisher: Riverrun
ISBN: 9781784294984
Pages: 432
Rating: ⭐⭐⭐⭐

Synopsis
(Blurb for A Silent Death from Goodreads)
A SILENT VOW
Spain, 2020. When ex-pat fugitive Jack Cleland watches his girlfriend die, gunned down in a pursuit involving officer Cristina Sanchez Pradell, he promises to exact his revenge by destroying the policewoman.
A SILENT LIFE
Cristina's aunt Ana has been deaf-blind for the entirety of her adult life: the victim of a rare condition named Usher Syndrome. Ana is the centre of Cristina's world – and of Cleland's cruel plan.
A SILENT DEATH
John Mackenzie – an ingenious yet irascible Glaswegian investigator – is seconded to aid the Spanish authorities in their manhunt. He alone can silence Cleland before the fugitive has the last, bloody, word.
Peter May's latest bestseller unites a strong, independent Spaniard with a socially inept Scotsman; a senseless vendetta with a sense-deprived victim, and a red-hot Costa Del Sol with an ice-cold killer.
My Review
To be fair, I hadn't read any of Peter May's other books, although I had heard of the Lewis Trilogy. So I was intrigued to see A Silent Death appear on my Audible recommendations. I was also keen as it was based in Spain's Costa Del Sol region where I and my wife regularly holiday.
The story itself is a fairly straightforward cat-and-mouse type thriller, ramped up by one of the character's disability. In this instance, the criminal Jack Cleland seeks revenge after police office Christina Sanchez Pradell kills his girlfriend. The incident occurs while Christina is investigating a reported break-in at Cleland's villa. It's actually Cleland who kills his own girlfriend by mistake but it doesn't stop him putting the blame elsewhere.
John MacKenzie has just moved to the NCA as an investigator after being forced out of the Met. Before he's even started, he is told to travel to Spain to bring back Cleland, held by the Spanish for extradition. After waiting at Malaga airport for a few hours he realises that something is wrong as nobody is waiting to hand over the prisoner. Eventually, he is met by a young policewoman (Christina) who explains that the prisoner has escaped. MacKenzie is ordered by his boss to assist the Spanish police in their attempts to recapture Cleland.
So we have a prisoner on the run who is hell-bent on making Christina and her family pay for the death of his girlfriend. Christina has a husband and child, a sick sister and an aunt who is both deaf and blind. All are in potential targets for Cleland. On top of all this, Cleland is organising a huge sale of Cocaine somewhere on the coastline. Can MacKenzie help the Spanish police recapture Cleland before he wreaks havoc on Christina's family?
I Liked
The story has a fairly brisk pace, which Peter May keeps going throughout. The writing itself is excellent. The characters are also very well drawn, especially MacKenzie who just says what he thinks, and Christina's aunt Ana who we learn has Ushers syndrome affecting both sight and hearing. The Spanish coastline and hills are also beautifully detailed.
I thought the character of MacKenzie was spot on, his irritable nature and lack of diplomacy winds up almost everybody who meets him. But he's also very clever, not just because he can speak several languages, but the way in which he uncovers details to help the investigation.
Ana is another stroke of genius. She can't see or hear but is still able to communicate with those around her, using touch signing or technology. She touches the hearts of everyone she meets and it is her plight that shifts this novel to a much better thriller.
There's a fair amount of tension built up during the story, which you can probably work out from the blurb. And there are also a few twists in the tale, one of which I certainly hadn't expected.
I Didn't Like
There wasn't much not to like about this story. My only real thoughts were that the plot itself seemed a little straightforward and that some of the flowing descriptions of landscape and characters were there to fill out the story. But this is only a minor point, and I certainly intend to read/listen to more of Peter May's books.
Audio Book
Peter Forbes performance on A Silent Death was excellent. He went effortlessly from a Spanish accent to a broad Scottish one and back again with no hint of a pause. The production quality of the recording was also top-draw.
I look forward to listening to more of Peter Forbes performances.
Final Thoughts
There's a lot of quality in the writing of this story and it builds up the tension nicely. I for one will be coming back to read more from Peter May.
Recommended…
Please Consider Sharing
Please leave any comments below: