#BookReview of The Brass Verdict by Michael Connelly
3 Mar 2021
| 5 minutes | Paul Mitchell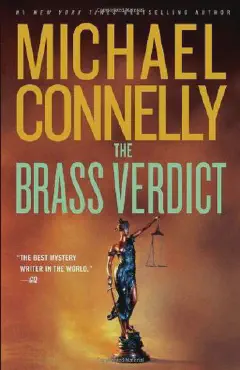 Title: The Brass Verdict
Author: Michael Connelly
Date Published: 23 Feb, 2008
Genre: Courtroom Drama
Publisher: Orion
ISBN: 9780752875842
Series: Mickey Haller #2
Pages: 433
Rating: ⭐⭐⭐⭐⭐

Synopsis
The Brass Verdict is the second novel by Michael Connelly to feature defence lawyer Mickey Haller. In this story, he takes over the caseload of old friend and another defence attorney Jerry Vincent, recently murdered outside his offices.
The first part of the story is largely about Haller taking over Vincent's cases. He had a number of active cases, but it's the Walter Elliott case that is most high profile. Elliot, a movie mogul is accused of killing his wife Mitzie and her German lover in their holiday home on Malibu beach. It's been a while since Mickey's last trial. A recovering painkiller addict, he hasn't tried a case for over a year so it's a surprise to him and everyone when judge Holder hand's over Vincent's cases. Agreeing to run all of the active cases, Haller brings in his long time case manager (and ex-wife) Lorna along with investigator Cisco. Together they work out Vincent's finances, case calendar and which cases they want to keep or drop.
Meanwhile, the Jerry Vincent investigation is ongoing lead by Harry Bosch. As usual, Bosch attempts to get ahead of the case by searching through Vincent's files (somewhat illegally). So it's no surprise when he clashes with Haller at Vincent's office. However, the pair agree to share as much information as they are allowed.
The second part of The Brass Verdict covers the Walter Elliott trial. Haller has to make up for lost time as the trial is due to begin in a few weeks. However, Elliott is adamant that there should be no delays as he is innocent. Unfortunately, the murderer took a laptop with the background work on the Elliott case leaving Mickey hampered.
With the help of his investigator Cisco, Mickey begins to uncover evidence that could help get his client off. In the meantime, there is still an unknown killer out there…
Everyone lies.
Cops lie. Lawyers lie. Witnesses lie. The victims lie.
A trial is a contest of lies. And everybody in the courtroom knows this. The judge knows this. Even the jury knows this. They come into the building knowing that they will be lied to. They take their seats in the box and agreed to be lied to.
The trick if you are sitting at the defence table is to be patient. To wait. Not just for any lie. But for the one you can grab on to and forge like a hot iron into a sharpened blade. You then use that blade and rip the case open and spill its guts out on the floor.
My Review
The Brass Verdict is a cracking second novel involving Mickey Haller. It's a fast-paced courtroom drama in much the same vein as The Lincoln Lawyer and told in the first person by Haller himself. It's also billed as the 14th Harry Bosch story in some quarters, but this isn't strictly true. Bosch only appears in fleeting moments for important updates on the Jerry Vincent case. We don't get to see the ins and outs of his investigation, only hearing snippets when he meets up with Haller.
As a side note, Jack McEvoy from Connelly's 1996 novel The Poet also gets a minor part in the story.
I Liked
When Mickey takes over Vincent's caseload, he goes into great detail about how an attorney's practise should be run, from finances to cases and the calendar. He also goes to great lengths to discuss the various aspects of the trial from voir dire (jury selection), the opening statements and the calling of witnesses. Don't get me wrong here, it's not a dull diatribe, he describes the workings as he's figuring out his angle. It's fascinating and I loved all of it. I've seen the Fox tv series Bull and thought that jury consultants were a recent phenomenon, but it's obvious from this book that they've been around for a while.
The characters are all believable. Mickey is a divorcee (twice apparently), his ex-wife and case manager Lorna is in a relationship with his investigator Cisco which brings a change in the dynamics of his team and this is handled well. Haller's relationship with Walter Elliott is fascinating. Elliott owns one of the big movie studios so he's used to getting his own way. When they meet to discuss the trial, he dominates the meeting and Mickey has to lay down the law. The lawyer manages to get the upper hand, but they are merely sparring, Elliott tries to take control of every situation, even during voir dire.
Bosch is as irascible as ever, but there's a feeling of mutual respect between him and Mickey. You can feel this respect growing as the story progresses.
The plot flows very nicely and it's quite linear from Mickey Haller's point of view; The murder of Jerry Vincent and the take-over of his cases followed by the trial of Walter Elliott. There are though a number of twists, with the Elliott case, before and during the trial, so too with the Vincent murder but this is happening in the background.
Final Thoughts
I loved The Brass Verdict! It has a great pace throughout and never lets up.
The ending surprised me, which is a good thing as I thought I had it all figured out. But I was wrong…
Highly recommended…
See also The Black Echo
Please Consider Sharing
Please leave any comments below: