#BookReview of Crucible of Fear by D.W. Whitlock
6 Apr 2021
| 4 minutes | Paul Mitchell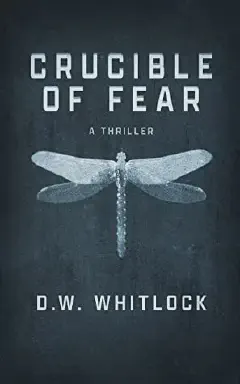 Title: Crucible of Fear
Author: D.W. Whitlock
Date Published: 22 Mar, 2021
Genre: Thriller
Publisher: Bowker
ISBN: 9780578840000
Pages: 351
Rating: ⭐⭐⭐⭐

My thanks to the author D.W. Whitlock for a copy of Crucible of Fear in exchange for an honest review.
Blurb
(From GoodReads) A man's life in chaos. His young daughter at risk. What is a pound of flesh worth?
Dante Ellis is a successful advertising executive on the rise. His world is plunged into a harrowing nightmare after he's targeted by ruthless hackers known only as Dark Messiah.
Dante soon discovers no part of his life too sacred to be used against him, no secret buried too deep. What began as a veiled threat soon descends into a desperate conflict against the will of an unseen enemy.
If you're a fan of Michael Crichton, Preston & Child and Michael Connelly, then you'll enjoy Crucible of Fear.
My Review
I quite enjoyed Crucible of Fear by D.W. Whitlock. I work with computers for my sins, but not in cybersecurity, so I could not tell you the latest hacking methods. But the subject does hold a certain fascination for me.
So to the story. Boy, somebody has got it in for Dante Ellis in this tale. Not content with making off with his right hand, he's also the subject of a fake porn video and plenty of other nastiness. All caused by a group of hackers known as Dark Messiah. Why was he targeted? Why make off with his hand? We're not sure at the beginning.
Other people are targeted by the group: Briana Warren has come to Los Angeles from a sleepy town in Nebraska, seeking her fortune as a singer. Spotted by Leish, an influencer on YouTube, she's been invited to stay at her apartment and make records. Unfortunately, the pair are videoed in a compromising act and Briana is forced to take part in the attack on Dante. On the other hand, Gary Wexler is the subject of a different kind of threats. Beginning with 'swatting' where he's faced by a group of armed police responding to a false alarm. He's also received hundreds of boxes of porn videos paid for from his own credit cards. Dark Messiah finally forces Gary into helping them by threatening his two small boys.
The hackers also force others to help the group, using threats to them or their families. But they are just pawns it seems and the real target is Dante. Eventually, he asks the FBI for help, and this is where the story turns. I can't say too much more without giving away too much of the plot but needless to say, it becomes more focused.
Up until this point, the author has mainly been laying the groundwork, giving us an insight into the hacker's methods, predominantly blackmail but also threats. At one point I was reminded of an episode of Black Mirror entitled 'Shut up and Dance' where a group of random strangers were targeted by a hacking group using a virus. But this novel is far darker and the methods Dark Messiah use are far more insidious, especially the dragonflies.
There's an interesting change of speed around midway through Crucible of Fear when 'the hunter' becomes 'the hunted' and other characters are introduced although we've seen them briefly before. I enjoyed this part of the story as the pace quickened noticeably from the first part of the book.
Characters
The main character is Dante Ellis, a successful entrepreneur who is bringing up his daughter alone. Though he does have help from his neighbour who babysits for him in times of need. considering several life-changing incidents have happened to him, he never seems too fazed. He even loses a hand but receives a state-of-the-art 'bionic' replacement and takes to it like a duck to water. I'm not entirely convinced by him.
On the other hand, I liked Briana. At first glance, you could dismiss her as weak, and to be fair it seemed as if she were there to be taken advantage of. But as the story progresses, her character comes into its own with a penchant for shotguns.
Final Thoughts
I know a lot of the technology discussed in the story is available now, how widespread it is I couldn't say, especially the fully autonomous vehicles. So in some respects, I just went with the flow without questioning too much. As said earlier, I quite enjoyed Crucible of Fear. It certainly picks up pace as it progresses and I found myself flying through the last few chapters.
Recommended…
Please Consider Sharing
Please leave any comments below: