#BookReview of Low Action by Andrew Cartmel
8 May 2021
| 3 minutes | Paul Mitchell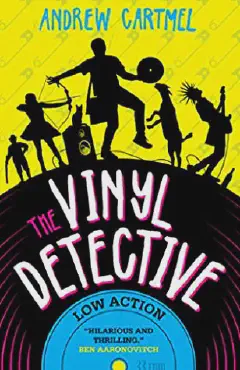 Title: Low Action
Author: Andrew Cartmel
Date Published: 4 Aug, 2020
Genre: Mystery and Suspense
Publisher: Titan Books
ISBN: 978178565900
Series: Vinyl Detective #5
Pages: 496
Rating: ⭐⭐⭐⭐⭐

Synopsis
Low Action is the fifth in the brilliant vinyl detective series by Andrew Cartmel. In this story vinyl and girlfriend, Nevada Warren are visited by Erik MakeLoud and his new girlfriend Helene Hilditch. Helene or Howlin' Hellbitch as she was formerly known, was the lead guitarist for the all-girl punk band the Blue Tits. Somebody has been trying to kill her making several unsuccessful attempts on her life. So Erik wants the vinyl detective to investigate.
"I'd like you to meet my new girlfriend" said Erik. "Someone's trying to kill her"
He offered this remark in such a casual, offhand, everyday manner that I had to repress the urge to reply, "That's nice".
Now, the vinyl detective finds rare records, he's not a private investigator. To get around this, they ask him to search for the rare first edition of their debut album. The reason it's rare? it was actually quite good musically which didn't fit in with the other punk bands of that era. As a result, their manager Saxon Ghost ordered it to be scrapped and re-recorded. Badly. So vinyl and Nevada set off on their search of this rare record, beginning with the other members of the band.
As with other vinyl detective stories, their search is never straightforward leading them to imminent danger and meeting weird and wonderful characters. There are several potential would-be killer's and it is up to the vinyl detective to work out who they are before they succeed.
My Review
Having read the other books in the series, I was looking forward to reading Low Action and it certainly didn't disappoint! It's another wonderful piece of work from Andrew Cartmel, this time covering the Punk Music scene. Once again we have an intriguing mystery; someone is trying to kill Helene Hilditch. There are several suspects: The other three members of her band (the Blue Tits), their old producer and a talk show host whose career she ruined. There's even more if you include the band's aficionado Fanzine Frank who is totally obsessed with the group.
Tinkler and Clean Head rejoin the action, they've been in the series right from the first book Written in Dead Wax. Tinkler is the viny detective's best friend whose untimely comments and incessant appetite can get a bit irritating. Clean Head (real name Agatha) is a London cabbie who helps them out either cat-sitting or driving the group around. Erik MakeLoud also returns to give some musical and rock legend credibility to proceedings. He first appeared in The Run-Out Groove and pops up every now and again. As too does Stinky Stanmer: vinyl's nemesis who gives a hilarious cameo.
Final Thoughts
Low Action has another brilliant plot written in the first person from the view of the vinyl detective. There are moments of laugh-out-loud humour and as is usual, impending danger to the group. Andrew Cartmel has once again given us some more gloriously eccentric characters including Saxon Ghost and Fanzine Frank. We also get a bit more of an insight into Nevada's past when we visit her old school and much more.
Once again, you don't need to have read any of the other stories to jump straight into this one.
Highly Recommended…
See also: Victory Disc, Flip Back
Please Consider Sharing
Please leave any comments below: