#BookReview of The Da Vinci Code by Dan Brown
26 May 2020
| 2 minutes | Paul Mitchell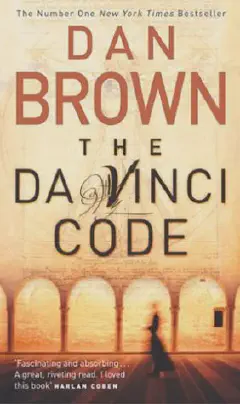 Title: The Da Vinci Code
Author: Dan Brown
Date Published: 3 Jan, 2004
Genre: Thriller
Publisher: Corgi Books
ISBN: 9780552149518
Series: Robert Langdon #2
Pages: 593
Rating: ⭐⭐⭐⭐⭐

Synopsis
(Blurb for The Da Vinci Code from Goodreads) Harvard professor Robert Langdon receives an urgent late-night phone call while on business in Paris: the elderly curator of the Louvre has been brutally murdered inside the museum. Alongside the body, police have found a series of baffling codes. As Langdon and a gifted French cryptologist, Sophie Neveu, begin to sort through the bizarre riddles, they are stunned to find a trail that leads to the works of Leonardo Da Vinci - and suggests the answer to a mystery that stretches deep into the vaults of history.
Unless Langdon and Neveu can decipher the labyrinthine code and quickly assemble the pieces of the puzzle, a stunning historical truth will be lost forever…
My Review
The Da Vinci Code is the second in the hugely successful Robert Langdon series and is probably my favourite.
The last time the action took place in Rome with Angels and Demons. This time the journey begins in the Louvre, Paris before moving on to London and Roslin in Scotland.
In this episode, Jacques Saunière, the curator of the Louvre and acquaintance of Robert Langon has been murdered. Saunière has however left several clues to his death including Langdon's name in a passage written in blood. The passage, with the position of the body, leaves a trail of puzzles within the Louvre for Langdon to follow.
In this instalment, the police have made Robert the prime suspect. He must now evade them until he can solve the riddles left by Saunière. He takes with him Sophie Neveu, a young cryptographer; who we later find out is the curator's granddaughter.
You have to hand it to Dan Brown, there's a lot of research in this, as with his other books. In this novel, Langdon chases the Holy Grail, introduces us to the Priory of Sion and is pursued by a disciple of the religious sect Opus Dei. All of which are thoroughly researched, even if you don't agree with his conclusions in the end.
Hi-Octane
The action is 'edge of your seat' as usual if you are familiar with the Robert Langdon series, and the pace remains brisk throughout the book. You can see why it was a bestseller. I also loved discovering little-known facts about everyday life that Langdon throws out along the way.
Highly Recommended…
Please Consider Sharing
Please leave any comments below: