#BookReview of The Girl Before by JP Delaney
1 Apr 2021
| 6 minutes | Paul Mitchell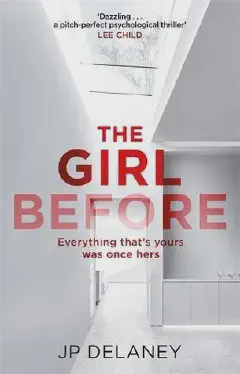 Title: The Girl Before
Author: JP Delaney
Date Published: 26 Jan, 2017
Genre: Thriller
Publisher: Quercus
ISBN: 9781786480262
Pages: 420
Rating: ⭐⭐⭐⭐

Synopsis
The Girl Before tells the story of two women renting the same property separated by three years. The first of whom has met a mysterious death. Was it an accident? We're not sure.
Told in parallel, it begins in the past with Emma (then) who, with her boyfriend, Simon are struggling to find a flat. Emma was alone in their current home when it was burgled and it holds too many memories. Jumping forward to the present Jane (now) is also looking at properties, but having no luck. She has also had a tortured past with the loss of her baby just prior to giving birth. In both cases, the estate agents suggest One Folgate Street as a last resort.
The agents tell both women that the chances of getting the property are slim. There's an application form to fill out plus they have to send recent photos, followed by a formal interview if they are successful. There are also tons of rules and by-laws which tenants must agree to before they will be allowed to rent. Many of the rules require the home to be kept uncluttered to the point of retaining minimal possessions. Plus they must agree to open the house for occasional visits from architectural schools. Of course, the property is amazing and both women fall in love with it. The architect: Edward Monkford agrees to interview both Jane and Emma, subsequently, allowing them both to rent the house.
The property itself is operated mainly through 'Housekeeper', an application that is responsible for the security and most appliances. It's state-of-the-art technology requiring owners to wear bracelets so that 'Housekeeper' recognises their presence and acts accordingly. It knows what lighting to use, when to turn on the shower, unlock doors, and so on. The flat is an open plan design on two levels, very modern but the stairs are open, this is how we believe Emma met her untimely death.
As the two women begin to live their lives at One Folgate Street, events begin to unfold. Firstly, in the case of Emma, the police find some of her possessions when they pick up the suspected burglars. One is her phone which contains some disturbing video's appearing to show Emma being sexually assaulted. Simon hadn't known about this. Emma said it was because the burglar had threatened to send the video to all her contacts if she spoke to anyone about the incident. This seems to signal the breakdown of Emma and Simon's relationship. For her part, Emma agrees to give a statement to the police about the assault. At around this point, Edward appears from the wings. Where Simon was caring and loyal, Edward wants an uncomplicated relationship. He is forceful, brutally so at times and also pretty controlling…
Jane on the other hand has moved into the flat, she is aware that the previous occupant died in mysterious circumstances. She's also started receiving flowers, delivered to her door on a daily basis. She finds however that it's Simon who has been leaving the flowers, but not for her, they're to remember Emma. Edward is quicker to come forward in Jane's case but is more gentle initially because of Jane's loss. He's still very abrupt and directly to the point (he wants uncomplicated sex). He begins to enter Janes life bit by bit, taking her on dates, cooking for her and buying gifts. Eventually moving in with her. Exactly as he did with Emma.
Simon has a theory that Emma was killed by Edward because she turned him away eventually. Is this what really happened or did Emma simply fall while descending the stairs too quickly?
Trigger Warning The Girl Before describes scenes of sexual assault including rape and its investigation.
My Review I'd seen The Girl Before promoted on Audible a few times and finally took the plunge to buy the audiobook. I'm glad I did as it's a gripping psychological thriller with hints of Fifty Shades of Grey.
It's a bit of a slow burner though, to begin with, and the skipping from Then to Now and back again can leave you initially confused. But it's also a great way to convey the parallels and similarities between the two women. You see, Emma and Jane are very similar in likeness, could almost be sisters if you like, which probably explains the fascination from Edwards point of view.
Events start happening a lot quicker once Emma/Jane move into the flat and things begin to unravel quite quickly. Firstly Emma and Simon's relationship. When he realises that she has been raped, he struggles to come to terms with the guilt that he wasn't there for her. In fact, he himself was at a lap-dancing club at the time with his friends. So the couple have flaws, neither has told the other what really happened that night so it's no surprise when the relationship breaks down. Janes life is a lot simpler, but it changes when she receives a letter from the hospital about her baby's death. Was the hospital culpable?
Characters
The Girl Before has three main characters (four if you include Simon). Edward's is an intriguing one. He's lost his wife and child to an accident apparently and has buried them in the garden on One Folgate Street. He designs properties all over the world and does not make any compromises. This is obvious early on when seen arguing with a multimillionaire who wants to make changes, but Edward won't budge. He's also designed a concept village in Cornwall and has evicted the residents who won't obey his rules. He's also very controlling in his relationships with both Emma and Jane, moving in with them unannounced.
Emma seems very vulnerable when we first meet her, but her character has so many layers. One minute you are feeling sorry for her, the next you are cheering for her, and then you could almost hate her. Almost. It's difficult to explain why in this review without giving away spoilers.
Jane on the other hand is quite strong-willed and resourceful. When she tries to use the house's internet connection through 'Housekeeper' to look up what happened to Emma it fails to provide any results. But she's smart and uses next-door's wifi to get around the problem. She too however falls for Edward's charm and allows herself to be controlled by him.
Final Thoughts
Although it starts off fairly slowly, The Girl Before certainly builds up to a thrilling cat and mouse climax. All the way through it leads you down a certain path, putting forward believable suspects only for you to find you've been completely wrong with your assumptions, great stuff!
Audiobook
The production of the audiobook is excellent using Emilia Fox and Finty Williams to represent Emma and Jane. Using the two actors made The Girl Before feel real and all the more engrossing. Both give brilliant performances and I would certainly recommend listening to this particular book.
Recommended…
Please Consider Sharing
Please leave any comments below: