#BookReview of Written in Dead Wax by Andrew Cartmel
23 May 2020
| 3 minutes | Paul Mitchell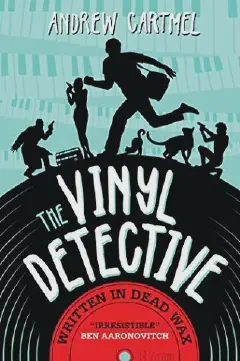 Title: Written in Dead Wax
Author: Andrew Cartmel
Date Published: 5 Oct, 2016
Genre: Mystery and Suspense
Publisher: Titan Books
ISBN: 978-1783297672
Series: The Vinyl Detective #1
Pages: 476
Rating: ⭐⭐⭐⭐

Synopsis
(Blurb for Written in Dead Wax From GoodReads) He is a record collector — a connoisseur of vinyl, hunting out rare and elusive LPs. His business card describes him as the "Vinyl Detective" and some people take this more literally than others.
Like the beautiful, mysterious woman who wants to pay him a large sum of money to find a priceless lost recording — on behalf of an extremely wealthy (and rather sinister) shadowy client.
Given that he's just about to run out of cat biscuits, this gets our hero's full attention. So begins a painful and dangerous odyssey in search of the rarest jazz record of them all…
My Review
I quite enjoyed Written in Dead Wax by Andrew Cartmel, it's certainly quirky and very witty.
Certainly, the first part of the story made me feel nostalgic for my vinyl record collection (stuck in the loft presently, but who knows…). Our hero (unnamed in the book) who lives alone with his two cats and an impressive Jazz collection, is employed by a beautiful young woman (Nevada Warren). The task: to find a very rare vinyl Jazz Album Easy Come, Easy Go by Easy Geary for a lucrative payoff. The two set off around London scouring through charity shops in search of the record (much to Nevada's disgust until she finds some real clothing gems).
They soon, however, come to realise that they are not the only ones looking for the album. They understand that they are being followed by a pair of blondes who they name the Aryan Twins. The twins have been bulk buying all the records in the charity shops before they have had the chance to look through them. Oh, and one of the vinyl detective's acquaintances has been mysteriously killed before he had a chance to show them his record collection.
Will our heroes find the record before the Aryan Twins? Will the vinyl detective pick up his lucrative reward?
Time will tell…
Characters
Well, there are certainly several weird and wonderful characters in this book:
Nevada Warren: She's the beautiful woman who starts the Vinyl Detective on his adventure and provides a love interest…
Tinkler:  The Vinyl detective's best friend; another vinyl collector of Rock Albums who smokes weed and occasionally falls down the stairs.
Clean head: A taxi driver used by the vinyl detective and Nevada.
Stinky Stanmer: A local radio celebrity who thinks he can enter our hero's house whenever he feels like it.
Hughie Mackinaw: The Scottish Welshman who ships phonograph parts around the country along with a-grade weed.
The list goes on.
I liked
The quest for rare records throughout London, the scouring of charity shops and car boot sales. All this felt very British.
The burgeoning relationship between the vinyl detective and Nevada which flourished throughout the novel. It is no surprise to see that there are further books in the series with both main characters intact.
Overall
Written in Dead Wax isn't perfect. I thought the scenes around London played out best, whereas the chapters in Los Angeles dragged on a touch. But this is only a minor criticism. Overall the book was very well written and witty; it was good to see that there are more titles in the series.
I for one will be reading the next instalment!
Please Consider Sharing
Please leave any comments below: