#BookReview of Blowing the Bloody Doors Off: And Other Lessons in Life
9 Oct 2019
| 4 minutes | Paul Mitchell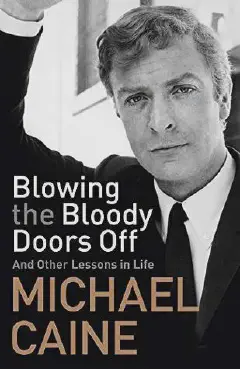 Title: Blowing the Bloody Doors Off: And Other Lessons in Life
Author: Michael Caine
Date Published: 23 Feb, 2000
Genre: Memoir
Publisher: Hachette Books
ISBN: 978-0316451871
Pages: 368
Rating: ⭐⭐⭐

Synopsis
(Blurb for Blowing the Bloody Doors off… from Goodreads) One of our best-loved actors, Michael Caine has starred in over 100 films in his six-decade career, spanning classic movies like Alfie, Zulu, and The Italian Job (the inspiration for the book title) to playing Alfred opposite Christian Bale's Batman in Christopher Nolan's blockbuster Dark Knight trilogy. Caine has excelled in every kind of role–with a skill that's made it look easy.
Caine knows what success takes. He's made it to the pinnacle of his profession from humble origins. But as he says, "Small parts can lead to big things. And if you keep doing things right, the stars will align when you least expect it." Still working and more beloved than ever, Caine now shares everything he's learned-and "his fans will be rewarded, as will anyone seeking an enjoyable, inspirational read" (Library Journal).
What the book isn't
Let's be clear, Blowing the Bloody Doors Off: And Other Lessons in Life is not a biography, it's more a series of life lessons from the great man. If you're after an autobiography, Michael Caine has written a couple: What's it all about (1992) and The Elephant to Hollywood (2010) which you may prefer.
The actor has decided that stories from the first books will not be repeated in this one, but he still has plenty to go around. For instance, one of his first lessons came when John Wayne told him "never to wear suede shoes". Why asks Michael? "Well," says John "You're gonna be a huge star and somebody is going to spot you while peeing in a toilet, they're gonna turn around to say 'Hey Michael' and pee on your shoes".
Never wear suede shoes
Early Life
Michael Caine, born Maurice Joseph Micklewhite in 1933 grew up in a working-class family in London's Elephant and Castle. His father worked in Billingsgate market and his mother was a charlady. His diet was so poor that he contracted Rickets, but as luck would have it, the war improved his diet. By the age of 16, he had left school and taken several low-paid roles. National service soon followed, and he saw active service in Korea, but his life love was acting (found through a local youth club).
Life as a young actor
Caine paints a vivid description of life in London during the '50s and '60s, as a young working-class actor. He realised that there "were many opportunities on offer and not just in theatres, but in fashion, music, art and food". He hung out with other actors such as Roger Moore and Sean Connery as well as writer Harold Pinter and took any role on offer. His success was mainly down to hard work, determination, and pure luck. He reminds us that the first ten years of his career were difficult, and that success was more about surviving while continuing to do what he loved. This work ethic culminated in his big break and an Oscar nomination for his role in Alfie (1966). From here more film work followed and he had made another 12 movies by the start of the '70s, many more followed.
But I digress. Caine gives us some lessons for the young actor to aspire to: "Always say Yes", "Use the difficulty", "Be Prepared", and "Always give 100 per cent" are just a few of those.
Always saying yes gave him access to roles in many plays early on, and later films. Many of them were hits but he admits that some of them were 'stinkers'. But Michael always found something in the process which he learned from. He also gives us an insight into the meticulous way he prepares for his films. Making sure he knows his lines inside out but deliberately ignoring the other actors' lines so that he would respond naturally upon hearing them. We gain many other insights into Michael Caines life including how Jack Nicholson persuaded him not to retire and the three people who helped him to quit smoking.
Final Thoughts
So, did I enjoy the book?
Well, Yes - in parts. I enjoyed and looked forward to the anecdotes, some of them were laugh-out-loud. However, when going through some of his lessons, Michael tends to ram them home, going repeatedly over the same piece in great detail, such as when describing his very thorough preparations before going on set.
Performance:
I like Michael Caine, I think he's an excellent actor, but his performance when reading this was not one of his best. When I saw that he would be narrating his book I thought that this would be the icing on the cake. However, it was not to be. At times it felt like he hadn't seen the book before and occasionally stumbled over the words. I don't think the production team helped as towards the end of the book, you could hear the turning of pages which was a little distracting.
Please Consider Sharing
Please leave any comments below: