#BookReview of Heavenfield by LJ Ross
23 Apr 2021
| 4 minutes | Paul Mitchell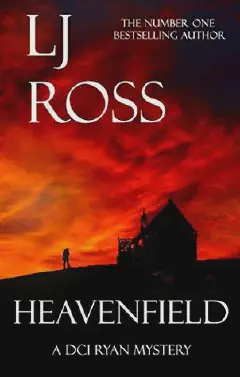 Title: Heavenfield
Author: LJ Ross
Date Published: 4 Mar, 2016
Genre: Mystery and Suspense
Publisher: CreateSpace Independent Publishing Platform
ISBN: 9781530652686
Series: DCI Ryan Mysteries #3
Pages: 264
Rating: ⭐⭐⭐⭐⭐

Synopsis
Heavenfield is the third in the brilliant DCI Ryan Mysteries by LJ Ross. It follows directly on from the previous novel Sycamore Gap. In that story, DCS Gregson had suspended Ryan for initiating an unauthorised sting to catch the serial killer. Still suspended, he's received an anonymous text has instructing him to go to Heavenfield Church, alone. When he arrives, he finds a body slumped over the altar with a bullet wound to the head. There is no weapon in sight. The body is Mark Bowers who we've seen previously in Holy Island and Sycamore Gap. Bowers was a mentor of Anna Taylor (Ryan's girlfriend) in her junior years both on the island and at university. He was also the leader of the sinister pagan group The Circle.
With nobody else around, Ryan becomes the prime suspect in the case, which certainly suits DCS Gregson, Ryan's boss. Arthur Gregson is another known member of the Circle, as is Jane Freeman, an archaeologist introduced in the last novel. She's ambitious and is intent on becoming the group's new leader. Was this at the expense of Bowers?
At the same time that Ryan is fighting to clear his name and lift his suspension, Gregson receives a text from his wife saying that she's locked out of their house. When he arrives home, he finds his wife on the floor in a pool of blood. There's also one of his burner phones, just out of reach unless he treads in the blood. He calls Jane Freeman the Circle's new leader but it's made clear to him that he's on his own from now on. Is this perhaps because Gregson failed to kill DC Lowerson when asked by the previous leader?
It seems a straightforward case, the old group leader murdered by the new. But as with other DCI Ryan novels, you know it won't be that simple.
My Review
Heavenfield is another cracking novel from LJ Ross. It's the third in the DCI Ryan Mysteries series, and I would advise reading Sycamore Gap and Holy Island to get a full background to the story. In those previous two novels, the Circle was an insidious group that operated in the background. In Heavenfield they play a much more significant role and you get a sense of how far-reaching they have spread.
Having read a few of these stories now, getting into this one was easy as it has a familiar feel to it. Once again DCI Ryan and his team are back including DS Phillips, DI McKenzie and DC Lowerson. I love these characters, their interaction and their loyalty to Ryan, even when he's out in the cold. There's always a great sense of camaraderie between them, and banter, especially between Ryan and Phillips. We're also getting to see more of Lowerson who was in the first novel but was in a coma for much of the second. There's also the corrupt DCS Gregson who we know is a member of the Circle. He's determined to pin the Bowers murder on Ryan to keep him out of their way. We delve a bit more into his background in this episode which gives us an insight into his behaviour.
As to the plot, it's another excellent one. You're never too sure who to trust, who is a member of the circle? They come from all walks of life whether that's the police, doctors, prison officers, who knows? And it's this angle that makes Heavenfield so compelling. Once again there's a sense of danger to the team as the circle try to tie up loose ends, including their own.
Final Thoughts
To be fair, I never figured this one out at all, even if there were a number of clues to the killer's identity. Brilliant!
I'm looking forward to reading the next in the series.
Highly Recommended…
Please Consider Sharing
Please leave any comments below: