#BookReview of Moonraker by Ian Fleming
7 Jul 2022
| 4 minutes | Paul Mitchell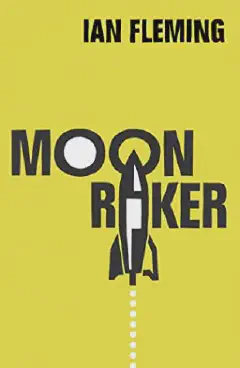 Title: Moonraker
Author: Ian Fleming
Date Published: 1 Jul, 2012
Genre: Thriller
Publisher: Vintage Classics
ISBN: 978-0099576877
Series: [James Bond] #3
Pages: 352
Rating: ⭐⭐⭐⭐

Synopsis
(Blurb for Moonraker from Amazon) Sir Hugo Drax is a multi-millionaire tycoon and war hero, revered by the British public for his Moonraker missile defence programme.
So why does he risk destroying his reputation and the future of the Moonraker programme by gambling millions of pounds at the card table, and is there something suspicious about his winning streak?
As 'the best card-player in the service', Bond is called in to uncover the answers.
But as 007 probes deeper into the activities at the Moonraker base, he discovers that there is more to the mysterious Drax his project than simply cheating at cards..
My Review
I saw a couple of great deals on Amazon for some of the James Bond stories by Ian Fleming and thought "why not?". I'd already read Casino Royale so jumped straight into Moonraker, the 3rd in the Bond series. Now, forget what you've seen on the TV or in the Cinema, this is the original James Bond Moonraker story written by Fleming back in 1955. So don't expect to encounter space shuttles or the Star Wars programme.
'M' has asked Bond to help with a problem. It seems that a member of his club has been gambling thousands of pounds at the card table and has a fantastic winning streak. The club and 'M' believe he's been cheating and want James to see how he is doing so. The problem is that the member in question is Sir Hugo Drax, a war hero and the founder of the Moonraker project. Moonraker is Britain's missile defence system which is due to test launch imminently. They don't want anything to disrupt this and require Bond to be discrete.
Needless to say, Bond play's Drax at his own game and wins a fortune from the millionaire, much to his displeasure:
I Should spend the money quickly Commander Bond
Their paths cross again when a Ministry of Supply security officer is shot dead just outside Drax's Moonraker plant. Bond is sent to investigate…
Exotic locations / Gadgets / Bond Girls
Gone are the exotic locations (think Bahamas, Haiti, etc.). The setting for Moonraker is England, notably the Kent coastline between Dover and Deal. Much of the action happening in the countryside around Drax's base. There isn't any gadgetry to speak of either, but it doesn't detract from Fleming's excellent storytelling.
Gala Brand is the central female character, she works for Special Branch and has been planted into Drax's Company as his PA. There's no sexual chemistry between the Gala and Bond and he doesn't try to seduce her. Which is at odds with other Bond stories. However, there is something there, and we get glimpses of it when the tension is ramped up.
Bond Villain
Sir Hugo Drax is the Bond villain of this piece, and he's quite a notable figure. He's a millionaire who's been feted by the great and good of Britain and knighted for services to his Country. With very broad shoulders, ape-like hands and a large head, badly scarred from a wartime explosion he certainly stands out. He's also rude, a bully, bad-mannered and outspoken, oh and he cheats at cards… To be fair, as Bond villains go, he's one of the more believable characters.
Bond Himself
And what of Bond? Although there's plenty of action, intrigue and danger in this story, we also get a glimpse of everyday life in the secret service. Yes, the novel begins with Bond being taken through his paces at the firing range, but much of his time is taken up by paperwork.
It was only two or three times a year that an assignment came along requiring his particular abilities. > For the rest of the year, he had the duties of an easy-going senior civil servant.
Final Thoughts
Moonraker is a cracking story, with plenty of thrills, excitement and danger. When reading it, you should remember when it was written (just 10 years after the 2nd World War) and forget everything you've seen in the movies. Trust me, you'll enjoy it much more.
Recommended…
Please Consider Sharing
Please leave any comments below: