Book Review of The Puppet Show
19 Aug 2021
| 4 minutes | Paul Mitchell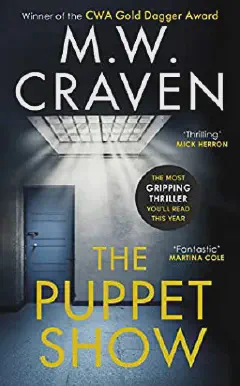 Title: The Puppet Show
Author: M.W. Craven
Date Published: 7 Jun, 2018
Genre: Mystery and Suspense
Publisher: Constable
ISBN: 978-1472127457
Series: Washington Poe #1
Rating: ⭐⭐⭐⭐⭐

Synopsis
(Blurb for The Puppet Show from GoodReads) A serial killer is burning people alive in the Lake District's prehistoric stone circles. He leaves no clues and the police are helpless.
When his name is found carved into the charred remains of the third victim, disgraced detective Washington Poe is brought back from suspension and into an investigation, he wants no part of.
Reluctantly partnered with the brilliant but socially awkward civilian analyst, Tilly Bradshaw, the mismatched pair uncover a trail that only he is meant to see. The elusive killer has a plan and for some reason, Poe is part of it.
As the body count rises, Poe discovers he has far more invested in the case than he could have possibly imagined. And in a shocking finale that will shatter everything he's ever believed about himself, Poe will learn that there are things far worse than being burned alive…
My Review
I'd been looking through the Audible catalogue for my next big listen when I spotted The Puppet Show by M.W. Craven. I saw that it was the winner of the CWA Gold Dagger Award 2019 and thought it might be worth a shot.
Wow, just wow is all I can say. What a cracking story!
This is the first novel in the Washington Poe series and what a start it is. There's a serial killer loose in Cumbria and they've been burning their victims inside the county's ancient stone circles. After the third body is found, the National Crime Agency (NCA) spots that the victim had a name cut into their chest.
Washington Poe sees an old friend turn up to his 'house' in desolate moorlands, it's acting detective inspector Stephanie Flynn. She's there to persuade him to return to work. But when he rejects her proposal, she tells him he needs to go into protective custody. When he asks why she reveals that his name was carved into the third victim of the immolation man.
Poe agrees to return to work and help with the investigation.
Brilliant Characters
Washington Poe is an irascible character. Suspended by the NCA for leaking the prime suspect in a previous case. As a result, Poe has taken himself off into isolation, quite literally, purchasing a shepherds croft in the middle of nowhere. He started his suspension as a detective inspector but is now in the team as a sergeant. His old sergeant is now his boss, DI Stephanie Flynn, Poe wouldn't have it any other way. Poe is a little unorthodox with his investigations and doesn't mind rubbing up the local constabulary.
Matilda (Tilly) Bradshaw is a civilian analyst working for the NCA. It is she that has spotted Poe's name carved in the third victim. She has a brilliant mathematical mind but has lived a very sheltered life which has left Tilly with very few social skills. As such work colleagues have mocked her, bordering on bullying. Witnessing an example of this bullying, Poe puts a stop to it in his own inimitable way.
Poe takes Tilly back to Cumbria so that she can help with the investigation. This is a task in itself as she has never left the office before and he has to ask her mother for permission. The drive back shows Poe that Tilly takes everything literally. It also provides a light interlude to proceedings and is the start of a great friendship.
Landscape
Much of the story takes place up in Cumbria. The author brilliantly describes the bleak landscape where Poe lives and the unpredictability of the weather. The team spend most of their time either in Poe's Shepherds croft or at Shap Wells Hotel. The hotel having modern conveniences such as wifi, but the croft has the benefit of isolation. Getting to the croft is difficult, it's only really accessible by foot or using Poe's quad bike.
Final Thoughts
The Puppet Show is an excellent whodunit that left me guessing until the big reveal. It's a briskly paced plot that is well written with plenty of twists and turns and a whole lot of action. There are also some quite gruesome moments as well.
The characters of Poe and Tilly are just brilliant, they are so different, like chalk and cheese but will do anything for each other. Tilly's character provides many of the much needed lighter moments in the story. This is especially true when she's in the company of Poe.
I'm already looking forward to the next story in the series…
Highly Recommended…
Audible
The audiobook is a quality production narrated by John Banks who gives a superb performance. You can believe that he is Washington Poe, with that marvellous Cumbrian accent.
Please Consider Sharing
Please leave any comments below: