#BookReview of The Run-Out Groove
5 Jun 2020
| 3 minutes | Paul Mitchell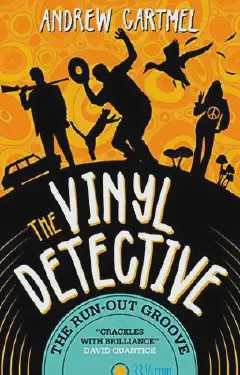 Title: The Run-Out Groove
Author: Andrew Cartmel
Date Published: 9 May, 2017
Genre: Mystery and Suspense
Publisher: Titan Books
ISBN: 9781783297696
Series: Vinyl Detective #2
Pages: 398
Rating: ⭐⭐⭐⭐

Synopsis
(Blurb for The Run-Out Groove from Goodreads) His first adventure consisted of the search for a rare record; his second the search for a lost child. Specifically the child of Valerian, lead singer of a great rock band of the 1960s, who hanged herself in mysterious circumstances after the boy's abduction. Along the way, the Vinyl Detective finds himself marked for death, at the wrong end of a shotgun, and unknowingly dosed with LSD as a prelude to being burned alive. And then there's the grave robbing…
My Review
The second Vinyl Detective novel, The Run-Out Groove follows on in much the same vein as Written in Dead Wax. Many of the characters from the first instalment are back: including Nevada, Tinkler, Clean head and Stinky Stanmer. In this story, the Vinyl Detective and Nevada are now very much an item, living together in his flat with the two cats.
This time around our hero is enlisted to find out what happened to a young boy missing since 1967. His employers this time are an unlikely pair, John Drummond and Lucille Tegmark. Drummond is the brother of '60s rock singer Valerian, who committed suicide at around the same time that the boy went missing. Tegmark is a journalist who has amassed a lot of documents about Valerian from her father. The pair have been bickering ever since they turned up at the flat.
The vinyl detective agrees to find out about the missing boy (eventually) and begins the search…
Strange Characters
Along the way, the couple meets another group of larger-than-life characters. There's the celebrity photographer who prefers to take pictures of birds, the 45's collector who keeps his stock in a warehouse guarded by a goose, and then we have the creepy showbiz manager who has a bit too much control over his client.
While the first book piqued my interest in old records as the vinyl detective searched through crates in charity shops. There's less for the record fanatic in this instalment, but the music theme remains this time in the form of '60s Rock.
Once again, Andrew Cartmel has written a charming story which I very much liked. It isn't just played for laughs, at times there's a sense of intrigue, danger and the bizarre (well grave robbing is not one of your everyday activities). The story seems to run a more natural course than the last, which went off on a bit of a tangent about mid-way through. So this time it feels more refined, which I enjoyed much more.
I would certainly recommend it to friends…
Note: The story is a one-off so you can read this as a standalone novel. However, reading the first will give a better understanding of the characters.
See also: Written in Dead Wax
Please Consider Sharing
Please leave any comments below: