#BookReview of The Black Echo by Michael Connelly
11 Jun 2020
| 3 minutes | Paul Mitchell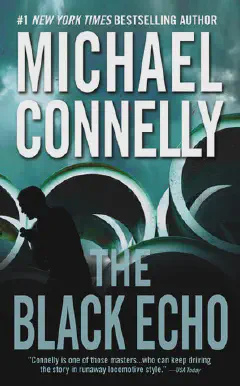 Title: The Black Echo
Author: Michael Connelly
Date Published: 21 Jan, 1992
Genre: Police Procedural
Publisher: Orion
ISBN: 9781409139485
Series: Harry Bosch #1
Pages: 465
Rating: ⭐⭐⭐⭐⭐

Synopsis
For those unfamiliar with The Black Echo, it begins with the discovery of a body found in a tunnel near Mulholland Dam LA. Hieronymus 'Harry' Bosch is called out to investigate and recognises the man as an ex-tunnel rat colleague from Vietnam. The case soon leads to an unsolved bank heist currently under investigation by the FBI.
Out of the blue and into the black is what they called going into a tunnel. Each one was a Black Echo.Nothing but death in there. But, still, they went.
When Harry tries to get more information from the FBI, he pushes the wrong buttons and is stonewalled by the lead investigator Rourke. Once Harry has left their building, Rourke puts in complaints with Internal Affairs (IAD) and Harry's boss Lieutenant Harvey '98 Pounds. Bosch is given instructions to stay away from the case by both parties.
Now, a background to this story is that Bosch has been moved to Holywood division from Robbery/Homicide with a cloud hanging over him from a previous case. IAD were the ones who investigated the matter and their boss Irvin Irving has not forgotten. So based on the complaint, he gets the original investigators to investigate the report.
Incredibly, Harry is allowed to remain on the case but he is partnered with FBI agent Eleanor Wish. Their investigation leads them across the streets of LA, unaware that they themselves are in the spotlight.
My Review
It's been a few years since I last read the Black Echo by Michael Connolly and I'd forgotten how good it was. It's a really engrossing story and I love Bosch's character including all his faults and weaknesses. His penchant for Jazz, chain-smoking and the fact that he's a bit of a loner makes him feel that little more real. Connolly has that knack of making you empathise with Bosch, so much so that even when you know he's in the wrong, you understand why he made the call at the time.
Harry Bosch was an outsider, always would be. Not part of the LAPD Family.
The book isn't played out at breakneck speed, starting off as a bit of a slow burner. But it moves gracefully from accidental overdose, murder, to a much larger conspiracy. It kept me hooked. I enjoyed all the subtle sub-plots being played out as the story unfolded: the IAD investigation, the inside man angle and the burgeoning romance. It all dovetailed nicely to a conclusion which kept me guessing right up to the end.
I do though think that perhaps the book is showing its age now a little. Set back in the early nineties when pagers were prevalent and mobiles less so. But maybe the absence of mobile phones added to the tension at times when there wasn't an easy way out.
If you are one of those who haven't read a Harry Bosch novel, this is certainly the place to start…
Audio
I listened to the special edition version of The Black Echo performed by Titus Welliver (from the Bosch series on Amazon Prime). The performance is slick as you would expect by a great actor and production values are excellent.
The audio version also includes an interview/discussion between Welliver and Connolly which is well worth a listen.
Please Consider Sharing
Please leave any comments below: