#BookReview of Crooked House by Agatha Christie
13 Jun 2020
| 4 minutes | Paul Mitchell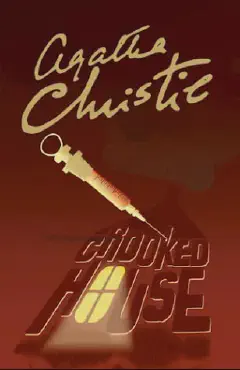 Title: Crooked House
Author: Agatha Christie
Date Published: 23 May, 1949
Genre: Mystery and Suspense
Publisher: Harper Collins
ISBN: 9780006168645
Pages: 302
Rating: ⭐⭐⭐⭐

Synopsis
(Blurb for Crooked House from Goodreads) In the sprawling, a half-timbered mansion in the affluent suburb of Swinly Dean, Aristide Leonides lies dead from barbiturate poisoning. An accident? Not likely. In fact, suspicion has already fallen on his luscious widow, a cunning beauty fifty years his junior, set to inherit a sizeable fortune, and rumoured to be carrying on with a strapping young tutor comfortably ensconced in the family estate. But criminologist Charles Hayward is casting his own doubts on the innocence of the entire Leonides brood. He knows them intimately. And he's certain that in a crooked house such as Three Gables, no one's on the level…
My Review
Well, Crooked House is another wonderfully crafted book by Dame Agatha Christie. A novel where neither Hercule Poirot nor Jane Marple appear, but it's still a great whodunnit. This time around it's written from the point of view of Charles Hayward who is hoping to marry the beautiful Sophia Leonides once the small matter of murder has been solved.
There's a familiar feel about the story; it takes place for the most part in a large house, with a well-defined group of suspects, and an amateur detective helping out the police. The period is the '40s, just after the war, and the large house in question is Three Gables in Swinly Dean, the crooked house of the title. The whole of the Leonides family is living under the same roof.
And they all lived together in a little crooked house
The actual cause of death is a little unusual in this story. Eserine poisoning administered via an insulin injection. The eserine was from Aristide's eye medicine. All the family knew what it could do to the old man so nobody was let off the hook here.
I Liked
You just know that when you are reading an Agatha Christie novel you will be taken on a journey full of misdirection and red-herrings. This one is no different, it's a very well crafted plot and you never quite know who the killer is right until the very end. All the family stand to gain something from the old man's death and all have a motive for the murder.
And the characters are all so well developed. I particularly liked Josephine, the 12-year-old sister of Sophia who is spotted snooping around the house listening in on private conversations. Charles certainly gleans more information from her than any of the other witnesses that he talks to.
Magda West is also a colourful character, you can't always tell who the woman is as she always seems to be playing one part or another. She's not averse to spending her father in law's money on unsuccessful play's and seems to think that Aristide's death is an ideal opportunity to put on a west-end play.
Then you have Brenda Leonides, Aristide's widow. She's his second wife and over 50 years Aristide's junior, so of course, the initial thoughts are that she could be the murderer.
But as you can see, there are plenty of other suspects to choose from (I've listed the main characters below).
I Disliked
The feeling that the story was a wee bit contrived to bring in the amateur sleuth viewpoint. The fact that Sophia refuses to marry Charles while there is a shadow hanging over her, almost forcing him to help. There's also the small detail that Charles' father is the Assistant Commissioner of Scotland Yard and that Swinly Dean just so happens to be in their jurisdiction.
Finally, Charles is sent undercover to help solve the murder. Although Chief Inspector Taverner is meant to be the lead investigator of this murder, he pretty much plays second fiddle to Charles.
Overall
Despite these minor criticisms, Crooked House is still a wonderful book full of well-crafted characters. It will have you guessing who the murderer is right until the very end.
If you like any of the other Agatha Christie novels then this one won't disappoint…
Main Characters
The following are the main characters living at the Crooked House:
Charles Hayward, Narrator and fiancé of Sophie Leonides.
Sophia Leonides, Granddaughter of Aristide Leonides, daughter of Philip & Magda.
Aristide Leonides, an Entrepreneur, involved in many well-known restaurants and owned a catering business.
Philip Leonides, Aristides son, historical author.
Magda West, Philip's wife, actress.
Roger Leonides, Philip's brother, runs Associated Catering.
Clemency Leonides, Roger's wife, scientist.
Josephine Leonides, the 12-year-old sister of Sophia.
Eustace Leonides, the 16-year-old brother of Sophia and Josephine.
Brenda Leonides, Aristide's widow.
Edith De Haviland, Sister of Aristide's first wife.
Laurence Brown, Tutor to Eustace and Josephine.
Janet Rowe, Nanny to Eustace and Josephine.
Please Consider Sharing
Please leave any comments below: