#BookReview of Triple M Murder by Carmen Cady
25 May 2021
| 3 minutes | Paul Mitchell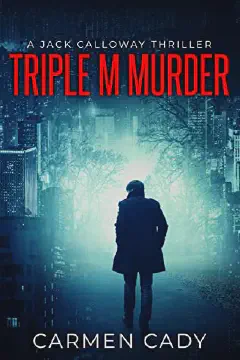 Title: Triple M Murder
Author: Carmen Cady
Date Published: 1 May, 2021
Genre: Supernatural
Publisher: Cady Publishing LLC
ISBN: 9781736007508
Pages: 245
Rating: ⭐⭐⭐⭐

Synopsis
(Blurb for Triple M Murder From GoodReads) A sadistic murderer. A grieving investigator with a dark secret. A desperate race to save lives and clear his name.
Jack Calloway, a private investigator, and criminal profiler witnessed the brutal murder of his family. Years later, driven by guilt and grief, he's pulled to find justice. Called on by law enforcement agencies across the country, Jack's on a mission to catch violent offenders. But when a serial killer from Jack's antebellum past catches up to him in Seattle, he finds himself in a no-win situation. The killer has deliberately set Jack up to take the fall.
Now, he must work with a forensic expert—the woman he loved and pushed away, and a lead detective who can't stand him. As if those aren't enough problems—Jack carries a secret that could cost him everything.
Will Jack find this killer and clear his name before it's too late?
My Review
Triple M Murder is an intriguing twist on the murder mystery genre by Carmen Cady. Jack Calloway is a consultant profiler who occasionally helps police departments along the US West Coast. In this instance, the Seattle police chief has called him in to help investigate a potential serial killer. The twist? Jack Calloway has been a vampire for over 150 years.
It's not immediately obvious at the start of the story, but little snippets are dropped out as Jack gives us his view of the world. Things like heightened senses, incredible strength and women's attraction to him are all given to us.
My senses take it all in. I can capture smells imperceptible to others and notice details that aren't obvious.
Jack has a history with the Seattle PD, especially Ed Halsted Lead detective and Carla Briggs forensic investigator who's also Ed's ex-wife. You know that there's no love lost between the two men and that Jack and Carla were once an item. So onto the murders, three so far. The victims, all women have had their feet and wrists bound. There are unexplainable puncture wounds to the neck and wrists which are older than the marks left by the bindings. It looks as though there were two different types of torture taking place over several weeks. Are there two torturers?
As we move further into the story, we learn that in this world there are two types of law enforcement: Those of a human, and those of a supernatural nature. The vampires are ruled by the Dracul who have fought to coexist peacefully with humans. There are also werewolves in the background. Jack sits somewhere just outside of both worlds, never fully aligned to either. As I said earlier, it's a really intriguing concept with some great original ideas.
Final Thoughts
For me, I struggled to connect with Jack, the main character. Maybe it was his casual use of women within the story or the sense of arrogance about him, I wasn't sure. Although this is not just a reflection of him, it seemed a trait among the whole vampire community, which may be what the author intended. Ed Halstead also appeared big and brash at the beginning, but towards the end, my impression of him changed dramatically.
Characterisation apart, Triple M Murder moved at a pretty quick pace with plenty of suspense thrown in. The supernatural aspect of the plot increased the sense of intrigue and added a welcome twist to your average serial killer plot. I enjoyed the history behind the Dracul's and the concept of opposing vampire factions. I think there's plenty more here to build on for future stories.
Recommended…
My thanks to Cady Publishing LLC via NetGalley for providing a copy of Triple M Murder in exchange for an honest review.
Please Consider Sharing
Please leave any comments below: