#BookReview of Winter Dark by Alex Callister
26 Jun 2020
| 5 minutes | Paul Mitchell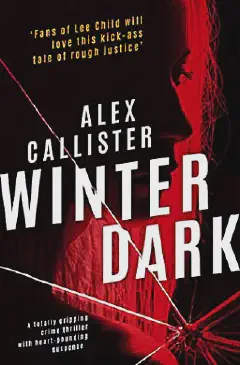 Title: Winter Dark
Author: Alex Callister
Date Published: 23 Feb, 2000
Genre: Thriller
Publisher: Bookouture
ISBN: 9781838881085
Series: Winter #1
Pages: 336
Rating: ⭐⭐⭐

Synopsis
(Blurb for Winter Dark from Goodreads) A girl with wide brown eyes looks into the camera. Below her picture, a clock ticks down. Cold traces the back of my neck, pricks my hairline. I will find you, I whisper.It has been ten years since Winter – a headstrong loner with a broken past – was pulled off a mountain by special forces with the aim of turning her into the Secret Service's most effective field agent. Now, she has just two weeks to bring down the head of a formidable criminal organisation, Alek Konstantin, before an innocent girl is murdered by a twisted killer in front of an online audience of millions.
Going deep undercover disguised as a paid assassin – alias Snow White – Winter's aim is to infiltrate Konstantin's inner circle. Calculating, charismatic and totally in control, he holds the girl's fate in his hands. But every time Winter gets close to him, he melts away. He's like a shadow, and yet he knows things about Winter – dark secrets she's never told anyone. Who is he, and how can she reach him in time to save the girl?
Then Winter finds the body of a man from her past, stuffed in a dumpster with a bullet through his forehead, and things begin to fall into place. But with the girl's death growing closer with every tick of the clock, and Winter's protective shell starting to crack, does she have what it takes to bring down Konstantin before the clock hits zero?
Impossible to put down, Winter Dark is an action-packed and twisty read with a heroine you won't forget. Perfect for fans of Lee Child, Sandra Brown and The Girl with the Dragon Tattoo.
My Review
So we have here a girl (she was 17 when picked up by special forces) who is a master hacker, Black Belt, a kick-ass snowboarder with a photographic memory and very handy with a set of knives. Oh, and she's beautiful to boot…
What's not to like?
Roll on ten years and Winter is a fully-fledged member of the security services working for GCHQ. In that time, a website has risen called Firestorm. It's a little like eBay but selling all kinds of illegal wares: Drugs, Guns, Assassins for hire, etc. It's a concept a little like one in Black Nowhere by Reece Hirsch although Kyte was housed on the Dark Web, whereas this is out in the open.
The website is so successful it spawns a second called Slashstorm which is even darker, putting up twelve lives to the world for votes where the loser dies. GCHQ have been looking at these sites for months but are nowhere near closing either of them down, and now another group of twelve await their fate. Can Winter find out who is behind them before the next victim is chosen?
It seems that Firestorm and Slashstorm are the brainchildren of the Dark Lord, a master criminal whose identity remains a mystery. That is until Winter spots him after trailing an assassin (cue snowboard chase) of a high profile philanthropist that her team were guarding. The trouble is, he also saw Winter and her life is now in danger.
This is where the plot twists a little and the hunter becomes the hunted. But this is no ordinary woman. Instead, Winter goes on the front foot and goes out in search of the Master Criminal before he gets her. This takes her on a journey through Italy, Paris and the murky underworld of Marseille.
I Liked
Once I got used to the idea that we were dealing with a female version of Jack Reacher on steroids, I got a little more into the book. The story is pretty fast-paced, constantly on the go so you never really have time to think about the reality of what is happening.
As noted above, there are a few plot twists which are quite clever and had me wondering what would come next, especially near the end.
I Didn't Like
Winter lacked credibility, which made it difficult for me to get into the story. I said earlier that it was like reading about Jack Reacher on steroids. But at least with Reacher, you know his military history and why he is how he is. With Winter there is no real background apart from the notion of a boarding school. So you're wondering how or why she became a master hacker, black belt, etc.
At one point midway through I seriously considered not finishing, although I'm glad I did as it got better later on and the plot twists kept me going.
Overall
It's a bit of a mixed bag for me. I enjoyed the fast pace of the book and the plot twists but struggled to get to grips with the main character. This is pretty fundamental in stories like this.
Note: I should point out that there is a fair amount of sexual references in this book. So it may not be appropriate for those not into that sort of thing. Winter it seems has a huge libido and doesn't mind whom she plays around with.
Please Consider Sharing
Please leave any comments below: