#BookReview of Flip Back by Andrew Cartmel
11 Mar 2021
| 4 minutes | Paul Mitchell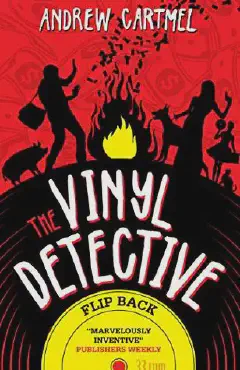 Title: Flip Back
Author: Andrew Cartmel
Date Published: 14 May, 2019
Genre: Mystery and Suspense
Publisher: Titan Books
ISBN: 9781785658983
Series: Vinyl Detective #4
Pages: 416
Rating: ⭐⭐⭐⭐⭐

Synopsis
Flip Back is the fourth book in Andrew Cartmel's brilliantly entertaining Vinyl Detective series. In this instalment, Tinkler (vinyl's best friend) has engaged our hero to purchase a very rare edition of the album Wisht by Black Dog. He's after the flip back version of the record. It's rare because the band's leader Max Shearweather quit the band and ordered all copies to be destroyed but there are a few out there. The band had since re-recorded the album before finally succumbing to the inevitable and disbanding.
Setting out in this latest adventure with girlfriend Nevada Warren in tow, the vinyl detective begins scouring the record and charity shops around London. When it seems they are getting nowhere, Tinkler calls his friend Erik MakeLoud (former guitarist with Valerian, and first seen in the Run-Out Groove). Erik arranges a meeting at his home with Black Dog's lead guitarist Tom Pyewell who may have a copy of the record. It's as they begin negotiations, a gunman starts shooting at them. This is about par for the vinyl detective…
The Island
After the gunman incident, the team still haven't found a copy of the album, but they have been invited over to Tom's home on Halig island where he may have a copy of the record. In fact, all the former band members own property on the island so there must be a good chance of a copy turning up. The island seems based on Lindisfarne with a road that only appears at low tide and it seems to be a pretty serene setting. But it's also the place where Black Dog held a disastrous publicity stunt burning one million dollars in front of dozens of journalists.
Will our hero find the elusive album, is there anything more to this charming story? You betcha!
My Review
Flip Back is another marvellous addition to the Vinyl Detective series. This time around our unnamed detective and Nevada are searching for the album Wisht performed by the folk band Black Dog. His best friend Jordan Tinkler has asked him to find the album in the hope of impressing his on-off girlfriend.
Reading the Vinyl Detective series is like revisiting an old friend. As soon as you see those glorious covers, you know that you're going to be in for a rollercoaster of a ride, full of adventure, danger and plenty of laughs. All with a musical theme in the background. Flip Back is no exception and folk music is the genre chosen for this book. Who knew that there could be so much excitement generated around the folk world?
The team from the last three books are all here: the vinyl detective himself, Nevada his live-in girlfriend, Tinkler and clean head. To me, Tinkler is probably the most annoying of the group (there's got to be one I suppose…), either stuffing his face full of food or making cringe-worthy comments at the most inappropriate times. In this episode, clean head seems to have been given more of an active role which is good because it balances the main character group. Stinky Stanmer (the vinyl detective's arch-enemy) also makes a cameo appearance, stealing our hero's ideas again for his radio show.
The storyline itself is tight, with plenty of sub-plots and twists which again I didn't see coming. There are plenty of larger-than-life characters that are another foundation of these stories which I look forward to. It's also good to see that some of these characters from previous books are brought back for another appearance.
Final Thoughts
As with the rest of the series, I loved reading Flip Back. It's an excellent addition to any bookshelf and I'm looking forward to the next vinyl detective episode…
Highly Recommended
Note: Although it's part of a series, you can dip into any of the books without needing to have read any of the previous ones.
See also: Written in Dead Wax The Run-Out Groove Victory Disc
Please Consider Sharing
Please leave any comments below: