#BookReview of Victory Disc by Andrew Cartmel
25 Feb 2021
| 2 minutes | Paul Mitchell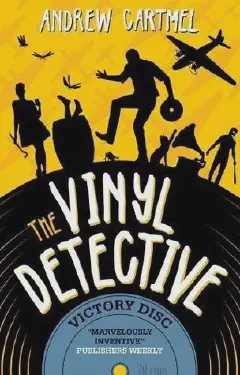 Title: Victory Disc
Author: Andrew Cartmel
Date Published: 8 May, 2018
Genre: Mystery and Suspense
Publisher: Titan Books
ISBN: 9781785655999
Series: Vinyl Detective #3
Pages: 320
Rating: ⭐⭐⭐⭐⭐

Synopsis
Victory Disc finds our intrepid hero along with girlfriend Nevada Warren being hired to seek out old 78 records by the Flare Path Orchestra, a Swing Band made up of the best musicians in the British forces rivalling Glenn Miller's Band. Lucian Honeyland (a colonel in the RAF?) was the band's leader, nicknamed 'Lucky' due to his record of successful bombing raids during the war. His daughter, Miss Honeyland has asked them to find rare discs or memorabilia she is running in his name.
The search for records takes the pair through the charity shops of London, travelling to Kent and down to Dover. On the way they meet the usual mix of weird and wonderful characters with a penchant for old shellacs and drop in on some of Lucky's ex-wartime colleagues.
As ever things are not always what they seem and they stumble upon a wartime murder, a drive-by shooting and face a group of Neo-Nazi's.
My Review
Victory Disc is the third in the increasingly brilliant Vinyl Detective series. This time around Big Band Swing music from World War II is the order of the day. The story is told in the first person by the vinyl detective himself (still unnamed amazingly…). Back again are Nevada, Tinkler and Clean Head from the previous novels (as well as cats Fanny & Turk).
This episode gets the series back on track with our hero doing what he does best which is searching out old vinyl (well shellac's in this case) and detecting. The second instalment The Run-Out Groove felt a little more contrived but this is a much more solid plot.
I love the eclectic larger-than-life mix of characters that we usually meet in these novels and this is no different; Miss Honeyland and her much younger chauffeur Albert being two in mind. I also enjoy that fact that we are changing musical themes with every episode, and it's great the way the author effortlessly blends real-life bands into his fictional history.
The plot itself is tight, laugh-out funny in places with a rip-roaring pace. Interactions between characters are well scripted, and all characters behave as you would expect when given unusual situations.
Highly Recommended.
Note: You don't need to have read either of the previous two stories to enjoy this one.
See also: Written in Dead Wax and The Run-Out Groove
Please Consider Sharing
Please leave any comments below: